I can't believe it's 2019 already! Where did last year go? It seems like only eleven months ago I was writing my first (and only) blog post of 2018, and now here we are starting a brand new year, hopefully ready to hit the ground running! Here's a few of the highlights of our work over this past year, at least the ones that really stand out to me.
Enter Buddy Vargas
We had the opportunity to collaborate with a local musician by the name of Buddy Vargas. He's a very talented singer/songwriter that's based out of the New Braunfels/Gruene area, that we met last spring when he was playing at our neighborhood bar, JWs Bracken Saloon. It took us a bit of coaxing to get him to agree to work with us, but eventually, we wore him down… So glad we did, as we were able to work on some really cool projects with Buddy, and we've got others in the works for 2019. Let's take a look at some of them now.
First things first
Although Buddy had a fairly good presence on the social media front, the first thing we did was get him a website so he could bring everything together in one place. And hence was born buddyvargas.com, the place to go for anything and everything Buddy Vargas!
Here's a screenshot of the front page: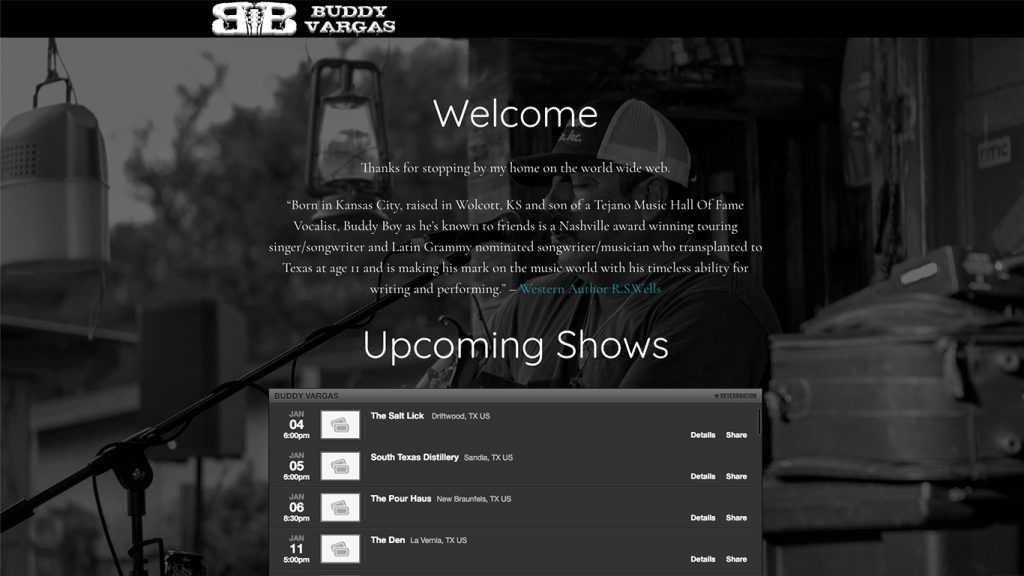 That got us off to a good start, but there was much work ahead of us. The next thing we tackled was to get some high quality videos done for his YouTube channel and Facebook.
Tunedesigner Promo
The first video we did was a promo Buddy wanted to make for his friends at Tunedesigner.com. He had hired them to produce his new single entitled "Forgive Me", a song that takes on the sensitive subject of suicide, and focuses on those left behind. It's a perspective that you don't often hear about, that being forgiveness, and the message is very positive. Here's the promo:
The Music Video
When Brenda first heard Buddy perform this song live, she immediately knew it was one that she wanted to help Buddy share with others in the form of a music video. Although it took about 6 months to create it, we are very happy with how it turned out. Take a look at it here:
We had a great time working with Buddy on this project, and are especially thankful for our friends Rick & Rose Andrade and their family for their support throughout the process. And a big thank you to the folks at Texas Actors Workshop who helped us cast the project, and for all the actors that participated in bringing the project to life! You guys ROCK!
EPK
To round out the website and give Buddy some demos he could use to help market himself, we spent a couple of days recording some covers as well as a bunch of his original tunes, and put together these two demos for his YouTube channel.
First up, a few of the covers that Buddy plays at some of his shows:
And next, here are some of his original songs that you also are likely to hear him perform:
We've got several other projects lined up with Buddy for 2019, so keep an eye out on our Facebook page or our Vimeo channel for all the latest information!
Other projects
We also had the opportunity to collaborate with a local venue in Seguin, Texas: The Abbott House. A beautifully restored historical landmark originally built in the late 1800's, The Abbott House is a great venue for weddings and other special events. Here's the promo video we made for them to highlight the venue for potential clients:
It was a pleasure working with Paul and Judi on The Abbott House promo video, and we also had a great time at their Holiday Social in early December! We are looking forward to working with them on more projects this year and beyond.
Bracken Saloon
One other project we worked on last year was a real estate promo for our neighborhood bar, JWs Bracken Saloon. This project was put together one morning in early June as a way for Heath and Paris to get the word out that they had decided to sell the bar and retire! There are two versions of the video, and I'm kinda partial to this social media version that we made:
So that about sums it up for 2018! There were quite a few other projects that we worked on as well, the majority if those being either small business profile videos or promos for various community organizations in our area. Some of them you can see on our social media pages, and others are hosted on various other platforms including YP.com, Yelp.com and quite a few dedicated small business websites.
So remember, if you are in need of some website work or IT consulting of any kind, give me a shout. And obviously if you need any video production, editing, photography, graphic design, etc., etc., I hope you'll give us a call so we can help you bring your vision to life!
Warmest regards,
-ken